Treatment for Restless Leg Syndrome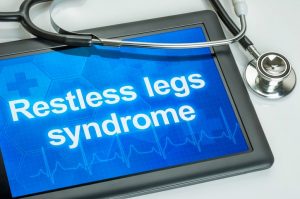 Sleeping well is an important part of your good health. Restless legs syndrome (RLS) can continually awaken you when you're trying to sleep. Also known as Willis-Ekbom Disease, RLS causes uncomfortable sensations in your legs, and your sleep can be interrupted when these sensations create irresistible urges to move your legs. Moving your legs typically relieves the discomfort but the sensations often reappear once the movement stops.
What is Restless Legs Syndrome?
Restless legs syndrome (RLS) can occur because of a mental or physical problem, or it can be a side effect of some medications. Twitchiness or leg discomfort typically happens in the late afternoon or evening. Symptoms may also occur when you're inactive and sitting for long periods of time, for example sitting at a desk, taking a plane trip, or watching television.
RLS Symptoms
RLS causes strange and unpleasant sensations in your legs, but you can also feel these symptoms in your arms. When sensations are occurring, it comes along with a strong urge to move your limbs. People have described these sensations as:
Aching

Burning

Throbbing

Electric Shocks

Itching

Tingling
The only way to find relief is by moving the legs. The sensations are more likely to happen when you're resting or inactive, and may occur at any time. For many people, these symptoms get worse at night, and for a short time in the morning symptoms subside.
RLS Treatment Options
The following treatment options can be used to treat restless legs syndrome:
Making lifestyle changes

to sleep habits and routines can help you have a consistent, quality sleep each night. Recommendations include avoiding or decreasing alcohol and tobacco intake, maintaining a regular sleep pattern, regular moderate exercise, leg massages, warm baths, or using a heating pad or ice pack.

Treating underlying medical conditions

that may cause RLS or worsen RLS symptoms.

Treating iron deficiency

with iron supplements that are available over-the-counter.

Medical management

using certain sleep disorder, FDA-approved medications can relieve discomfort and help you sleep better.

Sleep devices

can help alleviate uncomfortable sensations. Quell is a pain relief technology that you wear that helps alleviate the chronic pain seen with RLS. Quell is totally drug-free and can be worn 24/7.
Ways to Avoid RLS
There are several ways to avoid restless legs syndrome.
Medical Treatment: Be sure to get proper medical treatment if you have an iron-deficiency anemia, varicose veins, diabetes, or lung disease, because they can all cause RLS.
Weight Loss: Lose weight because being overweight or obese can predispose you to RLS.
Exercise: Exercise regularly, which not only helps to prevent RLS, but can also help to reduce symptoms if you are already experiencing them. A brisk walk four times a week for 30 minutes or intense leg workouts can help prevent RLS. Also, swimming is a low intensity way to stretch your legs and body.
Stay Hydrated: Drink water everyday to keep hydrated. A reasonable goal is eight 8-ounce glasses of water a day.
Less Alcohol & Tobacco: Drink alcohol moderately, and don't drink in the evenings as bedtime approaches. Also, quit or reduce the amount of cigarettes or nicotine you consume.
For More Information on RLS Treatment
If you are experiencing symptoms and suspect you may be suffering from RLS, or you need symptom relief from RLS, a doctor who is a sleep medicine specialist is needed to properly diagnose and treat your condition.
Schedule a personal consultation using this form.